When I wrote a couple of years ago that I thought the canals could be the setting and glorious backdrop for a really good 'road movie', I never thought that it might already have been done, and as a TV series.
Here's the concept:  You're a policeman, and after a traumatic incident you wake up in the 1980s and you want to know how you got there.   Has anyone done anything like this before?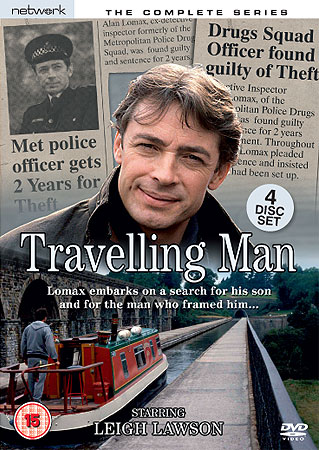 Well, sort of.
I've just finished watching the DVD set of Travelling Man, a 1980s drama series set on the canals and starring Leigh Lawson.  (Find it on Amazon here.)
He plays Alan Lomax ('Max' to the girls, and unlike most boatmen he has no trouble attracting those), a drugs-squad policeman unjustly convicted of corruption and banged up for a couple of years
On his release he lives on his narrowboat and cruises the canals of the Northwest on a double hunt:
For his estranged son, who'd disowned him when he was convicted.
 
To find the bent coppers and tawdry villains who framed him. 
Travelling Man is eminently watchable and was a hit at the time, with viewing figures in excess of 12 million on first screening. 
There's lots of chasing and fights and a couple of fallings-in-the-canal, so that give me an excuse to say it's bashes-to-splashes, ha ha.  (Can you think of a better pun?)
Never mind boats, in 1984 I was messing about in the restaurant business, so I didn't watch TV and had never heard of the canals, thus this entire series came completely new to me.
At the heart of every episode is Max's narrowboat Harmony, which I'm told is still about and located on the Bridgwater canal, albeit painted differently now.   
You want a review?  I don't want to reinvent the wheel; try the episode guide on Action TV Online.  But they give a faint-praise summing-up which I think is unfair:
As an interesting take on the classic gumshoe genre, Travelling Man was diverting fare. If nothing else, the series demonstrated Roger Marshall's capacity to deliver interesting television to the middle class masses.
Alternatively  you'll find a really good review on DVD Compare, where reviewer Paul Lewis does the donkey work for me.  He writes about the series as a whole and how it fits into a long tradition of 'ongoing narrative with predominantly episodic format'.  The review is a bit dry and academic, but despite that I found it fascinating: 
The series is a pleasant – and largely forgotten – surprise.  Its transposition of the all-American open-roads-and-moral-freedom structure of The Fugitive onto the very British setting of the UK's canal network is inspired, and Marshall's dry wit and ability to provoke thought make this series a rewarding experience to watch.
Travelling Man takes the basic structure of The Fugitive and its romantic depiction of an anti-hero who represents a flight from the trials and tribulations of modern life.  However, where the various American series modeled on The Fugitive, in Schickel's words, celebrated 'the most treasured [of] American traditions'  (the 'open road') (ibid.), Travelling Man moves the formula away from the Americanised association of roads and freedom, allowing Lomax to instead use canals to travel around Britain.

... In more direct parallels with The Fugitive, like Richard Kimble Travelling Man's Lomax often finds himself at the centre of a witchhunt (in 'The Watcher', he is caught in the eye of the proverbial storm after a seven year old girl is killed) or suspected of a crime (In 'On the Hood', Lomax is accused of rustling farm animals).
Read the rest of the review here.  Or if you are already convinced, buy the DVD on Amazon. 
I managed to get an interview with the star, Leigh Lawson.  Yes, really, my first-ever exclusive interview!  Well, more like an exclusive email exchange in which he recalls making the series.  I'll post it later this week.
Filmed in 1984 and /85, the series is full of memories of the period, such as snake-hipped lotharios with mullets, and private eyes enlarging  surveillance photos in darkrooms (remember darkrooms?) and dring!!dring!! bell telephones with dials, and tap-tap-tapping secretaries typing up news stories for editors. 
And for girls, get a load of the BIG HAIR.  
But if you want one single reason to watch the series, how about the fourth episode. 'Moving On'.  There's a sequence in homage to the famous crop-dusting scene in North By Northwest.  It's Chirk-tastic!
Setting the scene: Canal boating drifter and former policeman Lomax (Leigh Lawson) has already been warned to stay away from trying to find out who framed him. 
To drive home the point, as he's crossing Chirk Aqueduct in his narrowboat Harmony, he's assaulted by a crop-dusting helicopter. 
The plot-point seems preposterous.  I'm not sure how being buzzed by a helicopter on the aqueduct would scare him off from investigating his being framed.  Why not just jump aboard his boat at a lonely bridge-hole and threaten him?
But there's no doubting the virtuoso stunt work.  At first, after shouting fruitlessly at the roaring helicopter (I lip-read ".... off you stupid bastard!"), Lomax climbs on the roof of the narrowboat, where he picks up his shaft to duel quixotically with it.
But he slips and falls down the side of the boat into the water.  This bit looks staggeringly dangerous, notwithstanding that there are a couple of fat plastic fenders out. 
The boat potters along the aqueduct and (having been left behind by it) Lomax climbs out of the aqueduct, trying to run after it, while the chopper pilot tries to stop him. 
But our hero manages to dodge and run past (on the open side of the aqueduct, please note vertigo-sufferers), and then dives in and swims to catch up with his boat.
He clings on to the counter (the boat's propellor is still turning, threatening to food-process him) and he gets a final dousing in brown-coloured insecticide (or whatever) before struggling to climb aboard, and he collapses onto the tiller just as the boat enters the tunnel.  
Seen from the future, an age when BW workers need a lifejacket just to pick up litter by the canal, it's a tour-de-force of canal stunt-work.  And he looks like he does it all himself.  I can't see the joins.
Brilliant!  I will never go over Chirk Aqueduct - or any aqueduct - again without thinking of it.
And I'll never think of crop-dusting helicopters again without thinking "Would BW approve of this?" and "Is it biodegradable"? 
I'll also never go through Chirk Tunnel without thinking of that strange hand-painted graffiti on the side of the tunnel, "TAXI 773480".
I checked against the Chirk/Oswestry phone directory, and if that was ever a kosher taxi number, it's not listed now.  And it's shown on both ends of the tunnel - why would they bother to do that as a set decoration?  Was it there already?
With his dark good looks and brooding - the strong silent type -  Leigh Lawson could have been a good candidate to replace Roger Moore as James Bond back in the mid-80s.  If only I'd have stuck to questions about Travelling Man instead of asking about that...
But what really struck me was the coincidences.  So often in my blog I find coincidences, and there were several here (including the first woman to appear in the show being called 'Chrissie' and saying to Lomax:  "If only you'd married me.")
Another one:  In the episode 'On The Hook' there's a character called Granny Jackson.  Like me, Granny is a man, an ex-con who shared a cell with Lomax at one stage, and Lomax thinks Granny can help lead him to his nemesis, the big-time crook who framed him.
Granny is now a successful businessman, and I guess that's where the series departs from my reality!
Blimey, this is over 1,200 words; it must be a record for one of my posts.  And this is only Episode One of a two-parter! 
Coming shortly, some memories from Leigh Lawson about making the show, including why there was never a second series.
[This post accidentally went live last night, before it was finished.  Lots of edits this morning, it's now finished, promise!)